Novels:
Michael Sanders and the Destiny of the Qori – A Novel.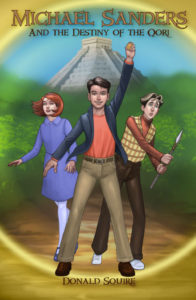 There is something a little odd about Michael's new friend Gavin. At a new school, far away from home, he is the first person Michael meets. Michael feels an instant connection with Gavin, and they quickly become friends. Though he is well liked, people are suspicious of Gavin. He uses phrases that have no meaning, and makes so many references to future events. Then there are the coins, dated with a year decades in the future. Gavin says they are just prank coins but Michael isn't so sure.
Michael can't help but get involved when a suspicious man follows the pair through the small town, starting them on a quest that spans generations. Their bond grows as they must escape a jaded old man in the future and are chased in the past by ancient warriors. All while trying to unlock the mystery of where Gavin came from and how to get him back.
Together they forge a timeless friendship and discover a destiny greater than they ever dreamed possible.
Also available in other formats (and for less $) from Smashwords.com
Short Stories:
Break and Other Short Stories – A collection of stories.
Worry Not Little Tree – A cute children's story just begging for an illustrator (hint, hint).
See all books on the Amazon Profile Page for Donald Squire