https://images-na.ssl-images-amazon.com/images/I/61PD12N%2BHuL._SL1000_.jpg
We have 3 Kindle Fire tablets in my home, yes three. Over the years we have gone through more tablets than I care to think about.
We've never been an iPad type family or any apple product really. They're just too expensive. Our first tablet for the kids was a piece of junk from Ebay many years ago. That lasted maybe a month before it died. My wife has also had nicer Asus tablets but the kids ruined both of those. Fortunately, we got several years of service out of each of them.
We still have a cheaper walmart tablet that we use but it doesn't hold a charge very well. Mostly, it's how we control the chromecast (the Amazon version of Netflix doesn't cast to Chromecast, which sucks).
Our first Kindle Fire tablet was a Christmas gift from Grandma a year or two ago. It has held up surprisingly well. And the big kid proof case has helped tremendously. With four little boys, these tablets have held up to a lot of abuse. I can't recommend these enough.
The Amazon interface is different from other Android tablets. It took us a while to get used to this change but the kids don't seem to mind. We also have a ton of apps that can be installed on any of the tablets because they are all registered to the same account. This is great because I was a big follower of the Amazon Free App of the Day feature when they still did that. All those apps (mostly games) are available for my kids now. Amazon has pretty much every popular app out there anyway so the kids have lots of choices.
My favorite feature of the Kindle Fire tablet though is the parental controls. I have no fear of my kids racking up unexpected bills or purchases because the tablet requires my password to buy anything, even apps with purchasing built in. I have also blocked the other features of the tablet that my kids don't need like "Newsstand" and "Music". The only tabs my kids have active are "Home", "Games", and "Apps".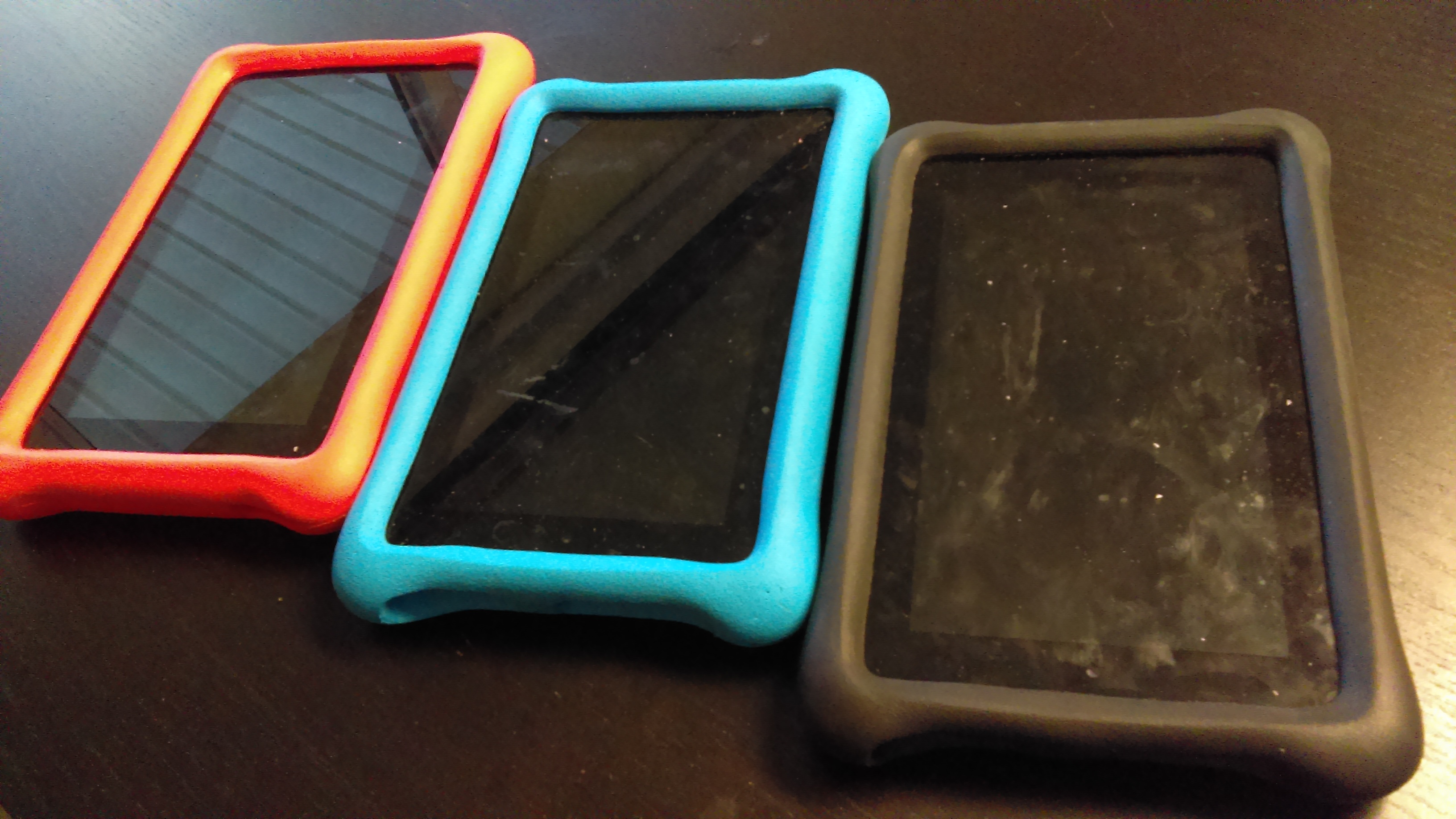 We did opt for the Kindle Fire with offers. It saves a few bucks and there is an option to keep the offers kid appropriate. My kids are good at ignoring ads, we've taught them well. If you're looking for a sturdy, low cost tablet for your kids, the Kindle Fire with the kid proof case is a good bet.